Posted by Amelia Cornell on Jun 19th 2017
I recently went on a life changing study abroad trip to Nepal to help rebuild a high school that was destroyed in the 2015 earthquake and to learn about the culture. This trip consisted of hiking mountains, exploring markets, visiting temples, and a lot of driving around. I feel all of these activities were made so much better with my Tepuy Activewear leggings, starting off with packing. Packing in general can be a stressful activity, and we were instructed to pack as light as possible. I am the type of girl who requires an entire suitcase for one weekend, so this was quite the challenge for me, but made a lot easier with these leggings. I was able to roll up 3 pairs, which I just matched with basic tops, and they weighed near to nothing and took up no space, very convenient.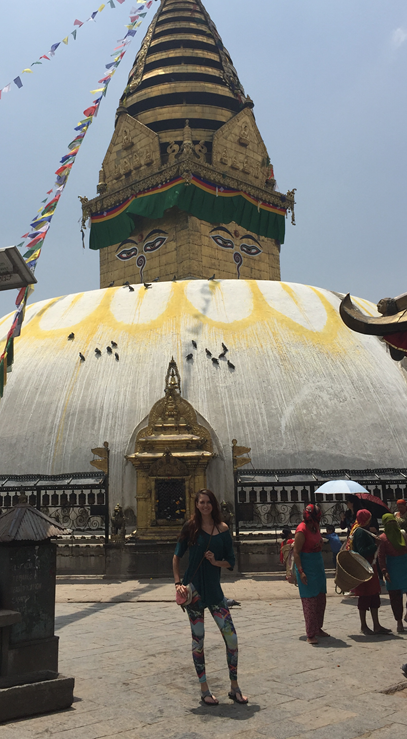 In Nepal they have a much different culture than in the United States and one thing that they emphasize is modesty of women. Everywhere we went women would cover their knees. In my opinion it is always best to try to adjust to other people's customs to be as respective as possible. Yet keep in mind Nepal is very warm this time of year, so jeans were not an option. Tepuy's leggings were helpful because they covered my legs and the fabric was breathable enough so that I did not feel hot. Also while traveling to a foreign country one of my main concerns was for bug bites because mosquitoes usually eat me up like candy. Again, this is where having my legs covered brought me ease of mind. Similarly, I was delighted to find out Nepal is a very colorful culture so my patterned and vibrant leggings actually fit in well.
When flying to Nepal I wore a different brand of leggings on the plane, but unfortunately they stretched after the two days of flight it took to get there. On the way back I choose to wear Tepuy and was delighted they held their shape and were so comfortable, which makes a huge difference when trying to sleep sitting up on a plane. I was comfortable in all my travels, I did not get sunburn, I did not get bug bites, and I fit in with their values. Tepuy leggings were the perfect travel necessity.